The Final Lap with Kerry Murphey Monday-Friday at 8:50am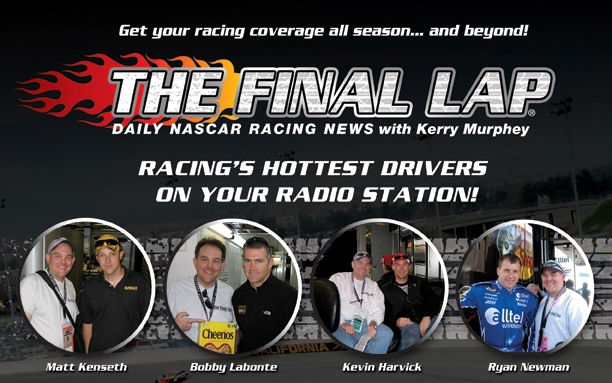 Kerry Murphey is a 20+ year radio veteran who started his career as an intern at KIIS-FM Los Angeles. He quickly became a key part of the afternoon drive program with Magic Matt Alan as a producer. After three years at KIIS-FM, Kerry moved to KKXX Bakersfield to become the morning news/sports personality. He began covering local racing stories from Mesa Marin Raceway as part of his daily sportscasts. In fact, Kerry was covering races, at about the same time as 2001 Winston Cup Rookie of the Year, and Bakersfield native, Kevin Harvick was just starting his career in the Featherlite Southwest Series.
Then, in 1993 a call came from a friend at KIIS-FM. His name, Blair Garner, host of a new show called After MidNite, which has since become one of the most successful syndicated radio shows in history. Kerry became the sports talent for the show using the on-air moniker of Jim Shortz. Jim was a colorful character on the air, presenting the information in a concise but entertaining manner, and always calling it like he saw it. As Jim's (Kerry) popularity grew, his reports went from once a night, to three, covering the usual sports of baseball, basketball, etc. Kerry soon realized the importance of racing, and more specifically, NASCAR was to his audience. Racing then led the reports virtually every night, and Jim's broadcasts became a staple to where his listeners could rely on the latest up to date NASCAR news. Additionally, Kerry provided generic versions of Jim Shortz reports for affiliates to use in other day parts, reaching an even larger audience, and eventually became the idea behind….The Final Lap.
Kerry has had the incredible opportunity during his career to work with some of the biggest names in the business…Rick Dees, Blair Garner, Casey Kasem, and now the network that Dick Clark co-founded, United Stations Radio Networks. Kerry Murphey is the host of a show called The Final Lap. Merging his two passions together, everyday he delivers the latest in racing news, stories, stats, and interviews to radio listeners across America.  Now in it's 8th season, The Final Lap with Kerry Murphey is nationally distributed by United Stations Radio Networks in New York City (co-founded by Dick Clark). The Final Lap is heard twice daily, 5 days a week in hundreds of radio markets throughout the U.S. and Canada, and features daily NASCAR news, stories, interviews, and more. Additionally, Kerry contributes to United Stations Radio Networks other racing shows, Thunder Road and Racing Rocks with Riki Rachtman.
Kerry Murphey is a proud member of The National Motorsports Press Association (NMPA) and NASCAR's Citizen Journalists Media Corps.