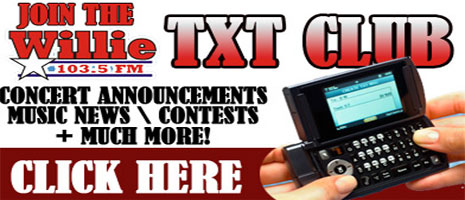 You can stay connected with Willie 103.5 with our texting service with great information sent directly to your cell phone!
Concert & Contest Announcements, Daily Weather Forecasts, Severe Weather Updates, School Delays and more can be sent to your phone to keep you up to date on what is important to you!
Here are the keywords to keep you connected!  All you have to do is text the specific keyword to 45364 and you will receive the messages you want! You will receive ## msgs/mo. Msg&data rates may apply. Text STOP to cancel.
To join the club & get Concert & Contest Updates:
Text WILLIE to 45364
To get the Daily Forecast & Severe Weather Updates:
Text FORECAST to 45364
To make a Request:
Text 1035 then a request to 45364
To get the last 3 songs played:
Text MUSIC to 45364
To get your child's specific School Delay or Closing, text the keyword below that is associated with their school:
Argos Schools – ARGOS
Bremen Public Schools – BREMEN
Central Noble Schools – CENTRAL
Elkhart Community Schools – ELKHART
Fairfield Community Schools – FAIRFIELD
Goshen Community Schools – GOSHEN
Manchester Community Schools – MANCHESTER
Monarch Christian Academy – MONARCH
Rochester Schools – ROCHESTER
Smith Green Community Schools – SMITH
Tippecanoe Valley Schools – TIPPECANOE
Triton School Corporation – TRITON
WaNee Schools – WANEE
Warsaw Christian Schools – WARSAWCHRISTIAN
Warsaw Community Schools – WARSAWCOMM
Wawasee Community Schools – WAWASEE
West Noble Schools – WESTNOBLE
Whitko Community Schools – WHITKO
Whitley County Consolidated Schools – WHITLEY